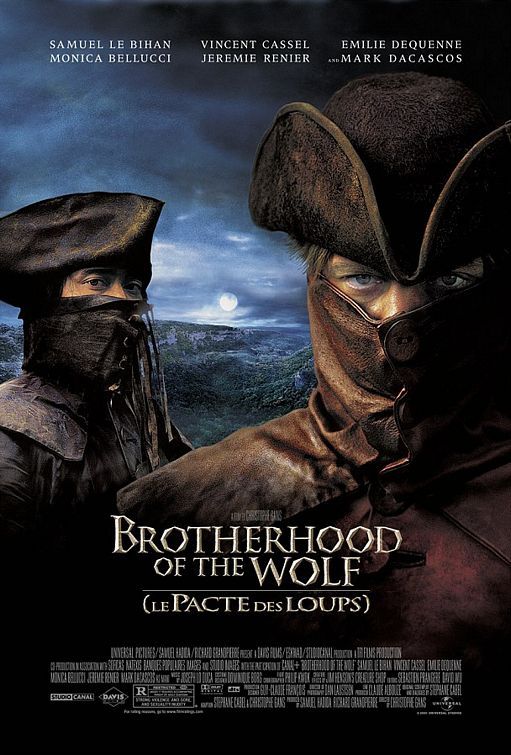 Titulo original: Le Pacte des Loups (Brotherhood of the Wolf)
Título latino: Pacto de Lobos / Pacto con Lobos
Género: Accion/ Historica/ Terror
Temática: Muerte, Leyendas, Monstruos, Basada en hechos reales, Torturas, Aventuras, Gore, Misterio, Animales
Calidad: BRRip
Idioma: Frances/ Aleman/ Italiano
Subtitulos: Español / Archivo SRT
Formato: MP4
Resolucion: 1280*548
Peso: 2.35 Gb
Fuente: 720p
País: Francia
Duración: 142 Minutos
Año: 2001
Premios/Nominaciones:
Mas informacion:
Director: Christophe Gans
Guión: Stéphane Cabel
Intérpretes: Émilie Dequenne
Jérémie Renier
Mark Dacascos
Monica Belucci
Samuel Le Bihan
Vincent Cassel
Productor: Richard Grandpierre
Música: Joseph Loduca
Fotografía: Dan Laustsen
Montaje: David Wu
Sébastien Prangère
Xavier Loutreuil
Francia, siglo XVIII: una extraña criatura aterroriza a los campesinos, dejando a su paso cadáveres mutilados. En 1766, recién llegado de América, Grégoire de Fronsac es enviado por el rey Luis XV para encontrar a la fiera e identificarla. Le compañía un misterioso indio que le salvó la vida. Cuando llegan a la región de Gévaudan, Fronsac no manifiesta un entusiasmo desbordante y se muestra abiertamente escéptico ante la verdadera existencia de un monstruo. En el contexto de una decadente sociedad feudal, sin embargo, no tardará en encontrar indicios interesantes que le adentrarán en una historia que va camino de socavar la autoridad del monarca y, además, se enamorará de la hija del señor local.
Unir la pelicula con Winrar.

PASSWORD DEL RAR: alejandro160