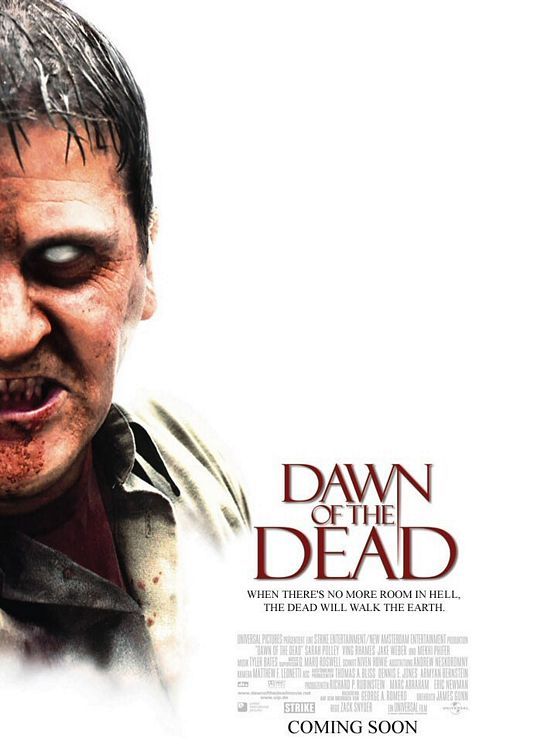 Titulo original: Dawn of the Dead
Título latino: El Amanecer de los Muertos
Género: Terror, Thriller
Temática: Remake, Gore, Survival, Monstruos, Apocalipsis, Muerte, Zombies
Calidad: BRRip
Idioma: Ingles
Subtitulos: Español / Archivo SRT
Formato: MP4
Resolucion: 1920*812
Peso: 1.50 Gb
Fuente: 1080p
País: Estados Unidos
Duración: 97 Minutos
Año: 2004
Premios/Nominaciones:
Mas informacion:
Director: Zack Snyder
Guión: James Gunn
Intérpretes: Jake Weber
Kevin Zegers
Kim Poirier
Lindy Booth
Matt Frewer
Mekhi Phifer
Michael Kelly
Sarah Polley
Ty Burrell
Ving Rhames
Productor: Eric Newman
Marc Abraham
Richard P. Rubinstein
Música: Tyler Bates
Fotografía: Matthew F. Leonetti
Montaje: Niven Howie
Dónde y por qué empezó... nadie lo sabe. Pasara lo que pasara y empezara como empezara, el caso es que, de repente, el mundo se ha convertido en una pesadilla viviente: la población del planeta ha sido golpeada por una plaga inexplicable, irremediable y fatal. Y los muertos no se quedan muertos. Los pocos supervivientes que quedan se ven acosados por cadáveres hambrientos que buscan saciarse con la carne de los seres vivos.
Tras conseguir escapar de su casa de Wisconsin a la mañana siguiente de la tragedia, Ana Clark (Sarah Polley) se encuentra con un pequeño grupo de supervivientes: el estoico oficial de policía Kenneth (Ving Rhames), el vendedor de equipos electrónicos Michael (Jake Weber) y el duro chico de la calle Andre (Mekhi Phifer) y su embarazada esposa. El grupo busca refugio en una fortaleza típica del final del siglo XX, un centro comercial abandonado. El mundo exterior se hace cada vez más apocalíptico. Un creciente ejército de zombis en descomposición intenta una y otra vez penetrar en el centro comercial, encontrándose con la resistencia de los supervivientes. A su vez, cada uno de estos alberga sus propios temores y sospechas. Aislados de lo que solía ser el mundo, los ocupantes del centro comercial –casi el último bastión de la humanidad– deben aprender a coexistir entre sí y a utilizar todos los recursos a su alcance para permanecer vivos y, sobre todo, para conservar su humanidad.
Unir la pelicula con Winrar.

PASSWORD DEL RAR: alejandro160